The Synthesizer
---
Living an American Dream
To succeed and reach a place where one aspires to be, having equal opportunity and non-discrimination. Idealistic but everyone would want to attain this state of being in their lifetime known as American Dream.
Term coined much before America coming into being as a free nation, has evolved over a period of time and has influenced other nations as well. Essentially it is a state of mind, it is a culture or value system inherent of a society. Live happy, be successful and attain freedom through hard work irrespective of religion, socio-economic background, gender and restriction of boundaries. Barack Obama achieved the American Dream by getting elected president of USA. Some of the attributes that form value system are:
Private free enterprise;
Free or open access for trade and investment;
Free flow of information and culture
The dream seems far fetched to achieve is because lack of job opportunities, rising costs of living and increasing personal debt that are seen as the top obstacles for some societies and nations.  As opposed to some flourishing due to better education, job opportunities, better options to start own businesses. The American dream for many people is to run their own company. The dream really defines an upward mobility for society and amongst the downturn of economy, financial crisis the new generation is emerging that is creating more opportunities for themselves. This new generation is of entrepreneurs, who have truly been torch bearers of free enterprise, free flow of information and are ready to dissolve boundaries set by nations to work together for a better life and better society. True future of the country is in the hands of entrepreneurs who convert their ideas to reality through sacrifice and determination. They are the embodiment of the American Dream.
Entrepreneurship is a wave that is taking the world by storm. Some are launching their own venture because they're now financially secure and starting a business is what they've always wanted to do. Others have been squeezed out of the workforce by the recession and are starting a business because it's their best option for financial stability. There has been phenomenal success that the world has seen in the Silicon Valley tech entrepreneurs like Zuckerberg. The successes have been phenomenal in terms of fame and fortune of some of the enterprises that has inspired the world to take on the ship of entrepreneurship.
Entrepreneurs have a key role to play in the economy of the 21st century
Entrepreneurs are well positioned to meet emerging challenges and turn them into decisive advantages. Entrepreneurs are a powerful engine of innovation, growth and employment
319 million people (12% of the working age population) are engaged in early-stage entrepreneurial activity across the G20, with a vast majority in the BRICS countries
SMEs account for 52%of GDP and 64% of employment on average (sample of nine G20 countries, 2007)
Within 20 years, the supply of capital might fall short of demand by up to $2.4
trillion
36% of the variation in economic growth can be explained by variations in start-up rates (sample of ten economies)
The conversion rate between those who consider entrepreneurship as a good career choice and those who actually embark on ventures varies in a 1 to 7 ratio, ranging from 3% in Italy to 22% in Brazil
Firms less than 5 years old make up 36% of all patenting firms in Japan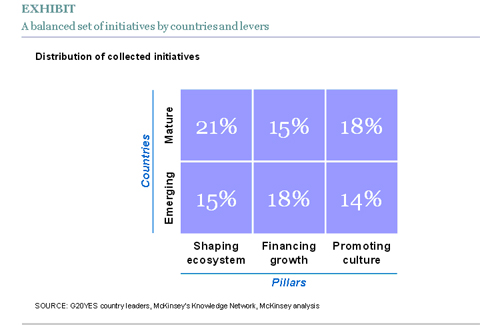 The motivation is just not monetary but something more that leads them to take greater risks. The strong sense to do something and dream to make it big makes them determined and persistent. Study says that there is more that they look for in terms of reward:
the thrill of competition
the desire for adventure
the joy of creation
the satisfaction of team building
the desire to achieve meaning in life
Shaken by an intense economic downturn, financial crisis that the world has seen, there are many who live paycheck to paycheck are feeling greater anxiety about their ability to secure their futures and in turn, achieve the American Dream. Despite this, another tenet of progress that endures in younger generations, and their drive is evident in the many ways they are getting creative with work to ensure they move themselves forward. The world has been changing, enablers to set them going are avenues to collaborate, share ideas, open sources for information and knowledge, crowdfunding, etc which allows one to be an entrepreneur.
References:
---
Your Comments.