The Creative Curator
---
An Everyday Encounter
Wake up at 6am.. freshnup in 15.. gulp up your breakfast.. wave a hi to god.. grab your lunch box and shoot out of your house by 8.55am. What if you leave your house by 9.00am instead of 8.55am? Ask any Mumbaikar and they will tell you exactly how important are those 5 min. A game changer to fight TRAFFIC which is the biggest enemy that no Mumbaikar can otherwise escape. My life is no different! Like others I also run to match the tic of the clock with my daily schedule, until recently when this everyday shuffle found a new meaning at a traffic signal right in the middle of urban chaos.
Like any other day, I was stuck in traffic near a bus depot and was having a casual conversation with a friend who travels with me to work. Suddenly two ladies, draped in sarees, all decked up with makeup, peeps into our auto and one of them says, "aa hero, chaal dus rupiya nikaal"! We went numb. We pretended as if we did not hear her, or even see her. Since then we get stuck at the same signal and bump into her. Initially I was scared whenever she approached our auto, maybe because of all the stories I have heard about them; but eventually we started to expect her and were ready with our 'ignoring tools!' Days passed by, and we started to recognize each other. We exchanged smiles, and started to have small conversations. She didn't mind if we didn't pay her, but just a 'Hello, how are you today' brought such a big smile on her face. Sounds cheesy! But no..I didn't realize that the ethnographer in me had subconsciously started to do some research. I started noticing that even if she was hated and shooed off by everyone, she still had a smile on her face all the time. It is pretty tough to lead a life when you know people around you don't except you as a part of them or rather human being, try to run away from you and are scared of you. I realized there is so much to learn from them!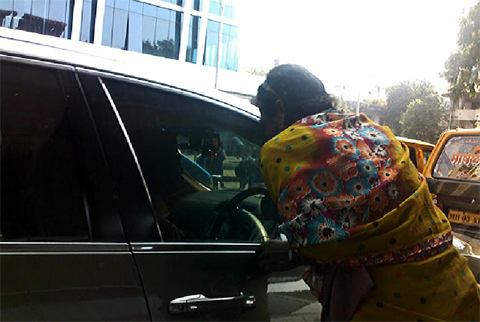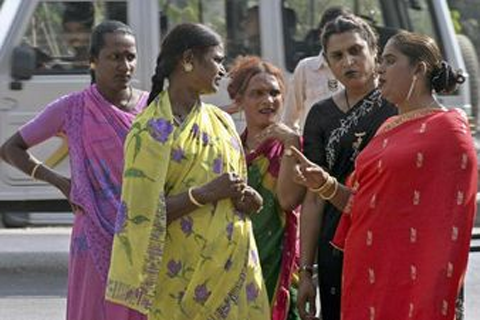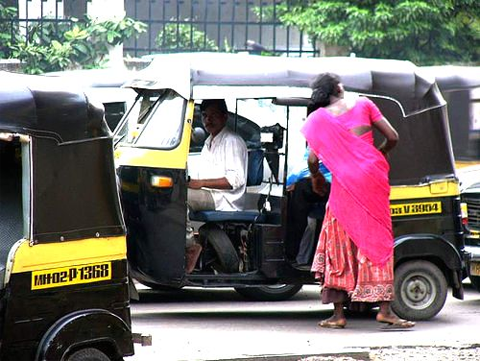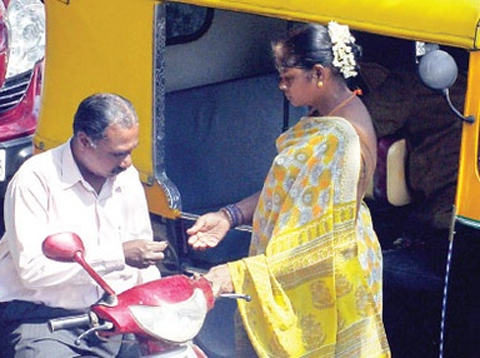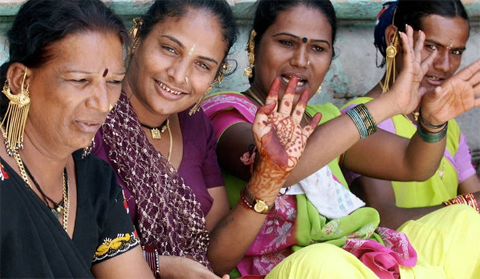 This led to a number of questions juggle my mind. I wondered how their lifestyle would be. What are their aspirations? I am sure begging is not a happy job. Are they forced to do this because they have no other option? Their community being so huge, how do they network? I am curious to know so much about them, but am confused on how to approach them or should I even approach them, is a question in itself. If I did, what conversation will I have? Feeling helpless to answer these I wrote to a friend!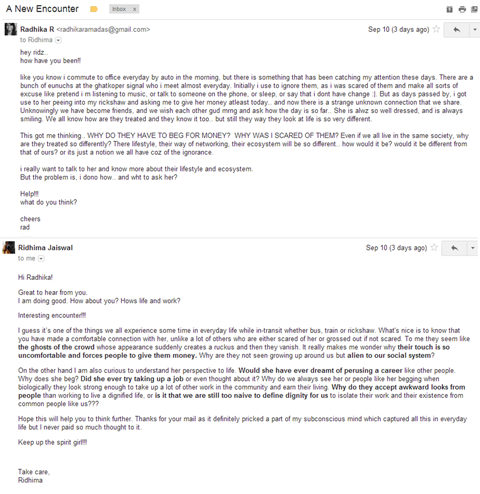 Glad to see she has similar feelings. Until now I thought I am the only one who has such questions for them. I am sure many of us stumble upon them everyday and do have some thoughts and questions that are unanswered. I would be more than happy to connect with all of you who have similar thoughts and questions. Would love to hear them and get those answered for you!
---
Your Comments.