---
Positive Deviance in the Indian Perspective
Not many may agree with me, but I definitely do not agree with the experts who comment that Jugaad -- or Indovation or any other terminology you want to use – is hurting India. I see immense power in Indovation, which through positive deviance can actually transform India. It is universally agreed that few will always move faster than others in a developing world, but the best thing that can really happen is that many move faster, and Jugaad used along with positive deviance approach can certainly help in that direction.
Don't we all read and hear stories about how a particular farmer in some far-flung corner of the country achieved his upliftment from poverty by following such and such an idea? How innovative thinking by someone resulted in solving some problem? TV channels, newspapers and magazines regularly feature such stories. Sometimes these solutions are so simple and easy to implement that they can be replicated easily across many parts of the country. Drawing inspiration from such stories can result in the much-needed positive willingness required to bring about a positive change.
Let's take the examples of two villages - Hiwre Bazaar and Ralegan Siddhi - in Ahemadnagar district of Maharashtra. Both were water drought hit villages, with rampant spread of illegal liquor and other such vices. Now, through the implementation of simple practices like tree planting, terracing to reduce soil erosion, digging canals to retain water, digging trenches around the hill contours to trap water, afforestation and building of percolation tanks, these villages have now become models of development. Moreover, all this was achieved through voluntary labour. These villages have progressed further, and not only have they become rich, but socially developed too. Liquor is banned, family planning is adopted by villagers, HIV/AIDS test is mandatory before marriage, biogas plants are used for energy, solar power and windmills are used for energy.
… And yet, many such villages which are drought hit still live in poverty in India.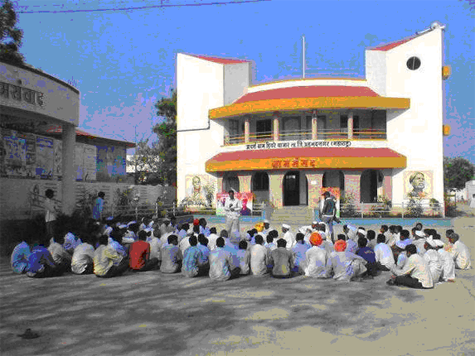 Due to its geographical location, India gets an enormous amount of sunlight throughout the year. Much of it goes waste, while a large part of India goes dark after sunset. This sunlight can be effectively used to lighten these villages. Few non-governmental organizations like SELCO have done considerable work in this area and even developed simple financial models to make solar energy affordable. Such initiatives can be easily taken across whole India.
Purushottambhai Patel is a small farmer in Gujarat. He owns eight cows, three hectares of land, and has limited access to water. Rather than setting up some large-scale water project for his farm, Patel uses the dung from his cows to generate biogas, which is then fed to a pump that runs partly on diesel. This saves him more than Rs. 20000/- a year in fuel costs. This can really serve as a viable alternative to farmers in areas where electricity is not available or unreliable, along with being environment friendly. But how many needy farmers know about it?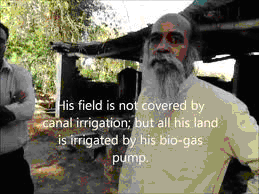 Dr. B.P. Agrawal is the founder of Sustainable Innovations in rural Rajasthan, which has created domestic rainwater harvesting systems by channelizing rooftop rainwater from every house in a community, through gutters and pipes to a network of multi-tier underwater reservoirs. Such simple solutions can easily be implemented in water-scarce areas. It has also developed kiosk-based clinics that aim to treat common ailments and preventable diseases at $0.25 per visit cost. The kiosks are equipped with computerized best medical practices for common ailments. The clinics are operated by trained individuals. It can help people in areas where medical practitioners are rare to find.
Infant mortality rate is high in India due to the fact that very few have access to medical care or very few can avail the expensive treatments. S. R. Daga, formerly a paediatrician at Cama Hospital in Mumbai, has developed a low-cost incubator from polystyrene boxes to prevent hypothermia among babies, which can be used effectively in rural or poor areas, and can help in reducing treatment costs and treating infants.
The biggest problem is, all such ideas or solutions just float around like fairytales for some time and then vanish. These ideas may be considered small, but small ideas also possess big potential for transforming millions. I think even if we are able to build a simple platform through which people all across the country can share problems and possible solutions and ideas, it will be more than helpful. All that we need is build upon this unique property of Jugaad and disseminate ideas originating from it in order to reach the country as a whole.
---
Your Comments.