---
Jagriti Yatra – A Journey of Discovery and Transformation
I started my Yatra along with 449 others, on 24th of December 2011 from IIT Mumbai. The Yatra started with a motivating speech by Dr. Raghunath Mashelkar. Dr. Mashelkar enlightened us about his own life, he narrated his life experiences on how he overcame poverty and other struggles in his life and finally made it successful.
After the flag hoisting ceremony was over, the 15 day journey started moving from city to city through different states of India. The social role models who have transformed millions of lives around them were the main targets.
Meeting Role Models
The fellow passengers – also called Yatris- met 10 different role models across 10 different cities in India. The objective of the visits was to study about each role model's vision, financial model, and its social impact. The role models whom we met were:-
SELCO (The Solar Electric Light Company) -  Works in the area of affordable solar lighting for poor
 Infosys- The Indian IT major
Aravind Eye Care – One of the largest facilities in the world for eye care
Travel Another India- An enterprise that works with rural communities and helps them own, manage and control travel ventures
Naandi Foundation- Works to create sustainable, affordable solutions to long-pending development problems of the country in the field of hunger, sanitation and children's rights
Gram Vikas- Works for a range of activities from biogas, drip irrigation, water and sanitation and education in the tribal communities of Orissa
Nidan-Works for legal rights for urban unorganized sector workers
Goonj-Works on the issue of clothing for poor
Barefoot College-Teaches illiterate men and women from impoverished villages to become doctors, solar engineers, architects and other such professions
SEWA (Self Employed Women's Association) - Works to organize women workers for full employment and self reliance.
Enlightening panel discussions
Apart from the role model visits one other major aspect of the Yatra were the panel discussions. The objective of these panel discussions was to bring relevant thought leaders as panelists, simulate thinking around the topics and let interesting thoughts emerge for the audience to grab. All the panel discussions were very insightful. Four different panel discussions took place in four different cities across India:-
Technology Start-ups and Social Impact
Enabling Rural and Agri Enterprises
 Skill Development Enterprises- Opportunities and Challenges
Power of One
During the long journey five different sessions happened on the train. These were conducted by experts from different fields, for which the topics were:-
Women and Leadership
Typography
Plastic and Sustainability
 Listening Skills  
Product Design
The objective of these sessions was to get the Yatris introduced to these different aspects of business and entrepreneurship.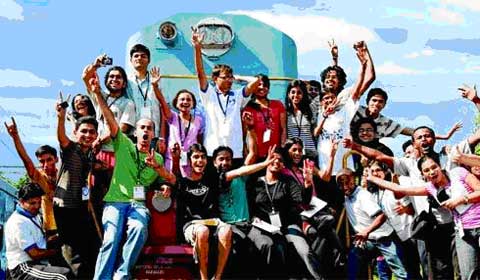 Jagriti Yatra – Awakening the entrepreneurial spirit
Finally the most important part of the Yatra-The Biz Gyan Tree! Biz Gyan Tree is an exercise in which all the 450 Yatris were divided into smaller groups according to areas of interest based on seven verticals, namely: agriculture, education, climate and energy, manufacturing, communication and technology, healthcare and skill development. Each group was given approximately thirty six hours to develop a venture plan. At the end of it the panel of judges selected the seven best plans, which were given the opportunity to implement their business model.
Each day was full of learning and insights. The whole experience of  the Yatra was revolutionary and enlightening for the participants. With people from different backgrounds and countries coming together and discussing ideas, sharing knowledge, it was like a revolution on wheels.
After travelling for around 7,500 kilometers throughout India for around 15 days, the train finally stopped in Mumbai on 8th January 2012.
What happened after the Yatra?
Every moment of the Yatra was unique, full of excitement, and learning. Five key takeaways for me were:-
The only way to transform people around you is through entrepreneurship.
Effective team building plays a very big role in the success of an enterprise.
Not the idea but the implementation of it plays a vital role in the success of enterprise.
Knowledge has no substitute.
Listening skills play a very big part in communication.
The train stopped, but it earmarked a new beginning for many of us. Some of my friends took on entrepreneurial initiatives, while some are devoting their time and energy to society by actively volunteering in social activities. Here are a few of my friends' short case studies who got inspired on this Yatra and went on their own entrepreneurial journey:
Vivek Khandelwal:-Vivek has Co-founded Expert Voice tap technologies, an innovative mobile platform for connecting people with experts. It works mainly in the area of Education and provides expert advice on topics like career counseling, scholarships, providing answers to text book questions.
Ramana Killi: - Ramana has founded Green Basics, a social enterprise, working on agricultural and energy needs of rural areas. Its services include making farming best practices available to all the farmers, providing modern farm equipments to farmers on a pay per use basis,  and providing high quality organic manure to farmers at affordable prices.
Archana Rangnathan:-Archana founded Divyam Foundation, an international organization for the schooling and development of kids. Divyam foundation runs a knowledge portal for children and parents of Singapore, other services include Divyam Kids International Preschool. Divyam foundation has volunteers spread all across the world.
Nazir Ahmad Dar: - Nazir has founded Royal Treasure Flowers, which delivers flowers across the country. It has standardized techniques for raising and propagation of flower bulbs, plants and seeds successfully. Main flowers produced are Tulips, Hyacinths, Daffodils, and Rananculus.
Yatra has inspired, transformed many lives till now and impact is huge, with more than hundred entrepreneurial initiatives till date. Maybe that's why the Millennial Train Journey in  the United States finds its inspiration from the Jagriti Yatra.( http://millennialtrain.co/about1/).
The Millennial train journey will be 10 days long and cover 3000 miles across the United States, which promises to transform the participants into better leaders, thinkers, and doers. This actually is a very good example of reverse innovation. Or maybe the breeze of innovation and development has just become bidirectional!
---
Your Comments.