The Reliable Adventurer-Warrior
---
Equalize: Tip the Scale of Inequality
Do you ever feel like doing something meaningful for other people, but don't know how? Does it bother you that some people have so much, and others so little? Do you want to make a difference? Then Equalize may be the app for you.
Equalize was born from the idea that everyday, ordinary people like us want to do good, want a more equal community, country, society. We just don't always have the time, resources or ideas to take this wish forward. The Equalize mobile app attempts to fill this gap.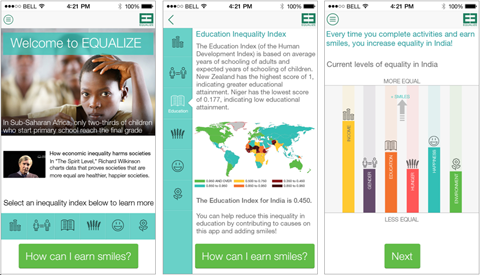 Imagine an app that introduces you to different kinds of inequality in India (and in time, around the world) and then helps you take action based on your areas of concern. Let's say education inequality has always troubled you. Equalize will help you find activities you can take on, to help reduce education equality, that also fit your routine and means.
If you don't have much time to contribute you can choose to donate books and stationery to an underprivileged school in your city over the weekend. If you are well networked with like-minded people in your college or workplace, you can organise a fund to sponsor a child's education. If you have ample time, energy and skills, you can teach your domestic help to read and write. Similarly, you can choose to reduce inequality in all or any of our other categories - Income, Gender, Hunger, Environment, and Happiness.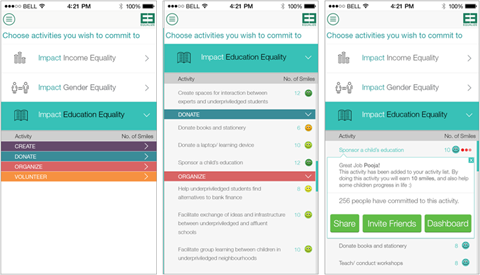 When you commit to an activity you will gain points or 'smiles', depending on the degree of involvement required on your part. You will also gain smiles when you complete and self-report an activity (as you can see, the app runs completely on trust!). You will be able to share these instances via social media, to set an example to your family and friends, and in turn encourage them to 'equalize'.
All the activities listed on the app have been created through surveys and discussions with people like you and me, taking into account what is possible and plausible for us. There will also be an option for the organisation you work for or the institution you study in to participate in 'equalizing' activities in a collective manner.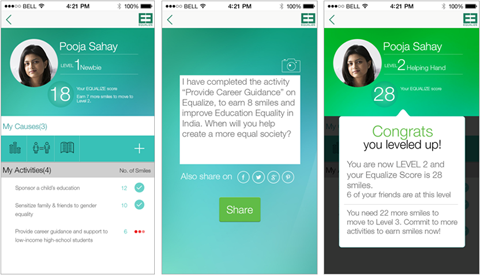 As you collect points, your Equalize Score will keep growing, and you will keep levelling up. Your score will be an indicator of how much and how well you have been contributing to make the world a more equal place.  Each one of us is a potential change agent, and all our actions and goodness put together through platforms like Equalize can eventually bring about big transformation.
We are currently in the process of crowdfunding to build the Equalize mobile app. If you wish to contribute, do visit our Indiegogo campaign page.
Contributions start at USD 1, and even the tiniest contribution counts towards making Equalize a reality and putting the power to equalize in our hands.
You can also like and share the Equalize Facebook page.
Equalize is an initiative by the Institute of Customer Experience (ICE), a not for profit organization that explores, interprets, forecasts and helps model the Future of User Experience.
---
Your Comments.