Business Design Strategist
---
RE INVENTING CYCLE RICKSHAWS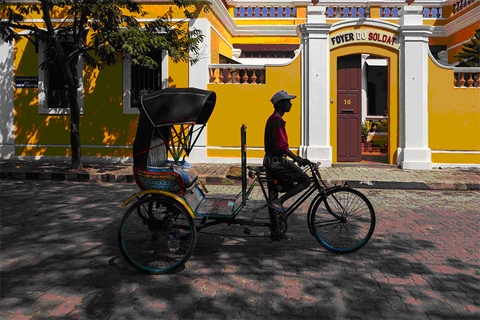 (A picture of an empty cycle rickshaw in the streets of Pondicherry)
As I walk through the streets of Pondicherry, a common sight I see almost everyday - empty cycle rickshaws. On the weekend, the streets are filled with bikes, cars, motorized rickshaws and the cycle rickshaw gets lost in the crowd. With bikes available on rent for just Rs. 200 a day, who wants to climb up a cycle rickshaw and travel slowly, when life moves so fast? So on one day, I walk up to one of these cycle rickshaws riders and ask them, "How many passengers do you have per day?", "People prefer bikes and auto rickshaws, sir, why would they choose a cycle rickshaw?" answered the cycle rickshaw rider.
Traditionally, cycle rickshaws are used as a last mile transport system, for e.g., in Delhi, a cycle rickshaw is a low cost efficient way to travel to the nearest metro station. In Pondicherry, cycle rickshaws are used for tourism purposes. Any tourist who enrolls for the "One day Pondicherry Tour" enjoys a few minutes ride on cycle rickshaw, but is that enough as livelihood for these people? The cycle rickshaws of Pondicherry, according to me, also can be thought of as a dying industry desperately in need of revival, something that would get them into the limelight.
Another observation and a very distinct one here in Pondicherry as is the poor state of waste management, especially waste collection and dumping. Considering Pondicherry is a tourist destination, it baffles me to see such poor practices of waste management here. As I researched more, I came across facts that should be bought to everyone's notice.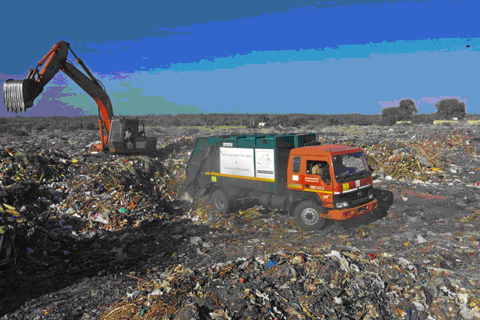 (Karuvadaikuppam dumpyard Pondicherry)
This is a picture of the Karuvadaikuppam dumpyard in Pondicherry. Waste is collected in trucks and dumped into this yard as mixed waste. The PMPL (Pondicherry Municipal Services) garbage filling at Puducherry's Karuvadaikuppam dumpyard is an" environmental catastrophe." Needless to say, waste collection in trucks is also not the most eco-friendly way of performing collection tasks considering the rising oil prices.
In 2011-12, the Comptroller and Auditor-general (CAG) had criticized the Pondicherry government's inefficient management of biomedical waste, pointing out that almost all hospitals and healthcare establishments in this union territory were guilty of violating rules. Clearly there needs to be some thought behind these collection and dumping techniques.
The cycle rickshaw and eco friendly transport and segregation of waste in Pondicherry can be addressed together. The idea is to use the cycle rickshaw network in Pondicherry to address the issue of low cost waste transportation along with spreading the message to segregation at source. Here is how I feel it can be done,
To spread awareness on topics of waste segregation at a household and institutional level into 3 sections—biodegradable, non-biodegradable, and plastic waste.
Cycle rickshaws can be used as low-cost eco-friendly way to transport waste to the local processing centers. The people transporting waste can be paid per tonnage they transport, which I feel would be surely less than the current cost to transport waste, i.e., Rs. 1500 to Rs. 2000 per ton.
Although the topic of waste management requires larger planning in terms of technology for waste processing like conversion of waste into biogas or electricity, the most important aspect will still be spreading awareness of segregation of waste at source and easy ways to transport segregated waste. A cycle rickshaw, for me, is a quick and easy way to create a change in the way waste is currently being handled in the city. Not only will this ensure livelihood and monetary benefits for the cycle rickshaw, but also give a chance to Pondicherry city to reinvent one of its iconic modes of transport to support a social cause.
I wish to explore this opportunity to facilitate a change and I know I will not be alone.
"Be the change you want the world to see" – Mahatma Gandhi
---
Your Comments.