The Pattern-finding Problem-solver
---
Creative Recycling at Home
Home, to me, holds the most fascinating array of things that can be played around with in so many different ways. In a way, it's such a canvas for creativity, especially in terms of what you can do with recycling old things and putting them to alternative uses.
Suddenly, throwing out old packaging/containers seems unnecessary and buying new containers for different things is not relevant.
Recycling at home is certainly not new in India especially. I've seen kitchens with old Bournvita glass bottles being used to store dals and masalas. Storage in the kitchen has so many interesting possibilities, and recycling can be taken outside the kitchen too. I just used an empty coffee bottle as a pen-stand for my pens that are usually scattered on my desk.

Aesthetically, I think my coffee pen-stand could do with some improvement. It still has a Nescafe label on it, which isn't bothering me at the moment. But I could also "up-cycle" it and turn it into a very beautiful pen stand. Perhaps, one that is more appealing than what you'd find in a store.
In terms of design, the truth is sometimes recycled packaging works better than the actual containers you might have had! For example, my trinket box was really not effective because all of my trinkets would get knotted up in one big dump. Now I'm using my old iPhone 3GS box to store my trinkets, which are nicely organized and sorted here.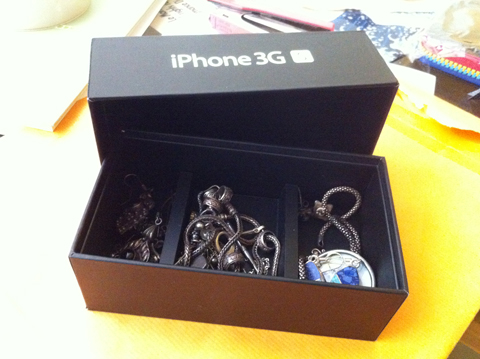 It's so easy to get into this "recycling" frame. I think it essentially involves three things. One, making a choice to not go and buy new stuff; two, always being on the look out for things being used/discarded at home; and three, putting your problem-solver's hat on. Then, for up-cycling, there's no limit to how creative you can get!
---
Your Comments.